On 15 November 1951, Pope Pius XII announced that a new Diocese would be created from the Archdioceses of Sydney and Canberra and Goulburn. To be named Wollongong, the Diocese was officially established on 11 February 1952. Bishop Thomas McCabe was transferred from Port Pirie to become its first bishop and the historic Church of St Francis Xavier, Wollongong, became the Cathedral.
Initially, the Diocese was comprised of parishes in the Illawarra, Shoalhaven and Southern Highland regions. In 1954 it was expanded to include Camden and Campbelltown and in 1975 the parishes of Batemans Bay, Moruya and Narooma reverted to the Archdiocese of Canberra and Goulburn. The boundaries of the Diocese have since remained the same.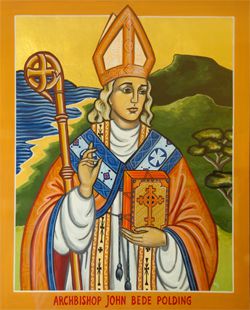 Whilst the Wollongong Diocese is relatively young, the churches of Campbelltown (1835), Appin (1837), Wollongong (1838), Picton (1847), Kiama (1852), Camden (1859), Shellharbour (1861), Nowra (1863), The Oaks (1865), Albion Park (1867), Bulli (1886), Berrima (1889) and Milton-Ulladulla (1890) enable us to trace our Catholic legacy back to the early times of European settlement and to the era of Archbishop John Bede Polding, Australia's first bishop.
At the time of establishment, there was a Catholic population of approximately 22,000 in 18 parishes. Today, the mission of our local Church reaches out to 180,000 Catholics in 31 parishes. In addition, the Diocese includes within its boundaries a number of areas of anticipated, significant population growth. Planning to respond to the sacramental and pastoral needs of these people is a high priority in the Diocese.