11th August – The Memorial of St Clare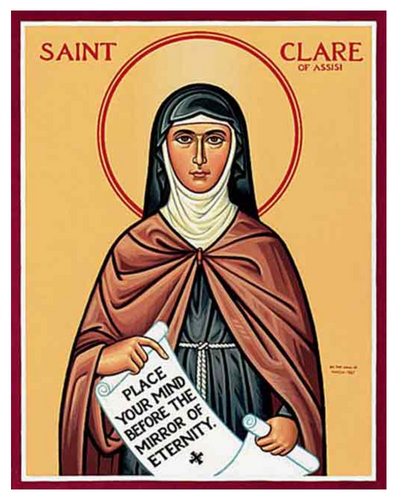 Link to today's readings: https://bible.usccb.org/bible/readings/0811-memorial-saintclare.cfm
Today the Church celebrates the Memorial of St Clare (16 July 1194 – 11 August 1253). Clare was born in Assisi and was the eldest daughter of the Count of Sasso-Rossa. As you can imagine she was born into a family of prestige, comfort and wealth, that would have been typical of the aristocracy at that time.
As a teenager Clare heard Francis of Assisi preaching, and in 1212 at the age of 18 travelled with her aunt to meet Francis, and there under Francis' guidance promised her life to God as an enclosed religious. Initially living as a Benedictine, Clare sought to follow a path of spirituality closer to that of Francis', and so she founded a group of women known as the Order of Poor Ladies. After her death, and in her honour, in 1263 Pope Urban IV changed the Order's name to the Order of St Clare.
St Clare leaves us this beautiful prayer:
Place your mind before the mirror of eternity!
Place your soul in the brilliance of glory!
Place your heart in the figure of the divine substance!
And transform your whole being into the image of the Godhead Itself
through contemplation!
So that you too may feel what His friends feel
as they taste the hidden sweetness
which God Himself has reserved
from the beginning
for those who love Him.
We find in this prayer some wonderful parallels with today's First Reading for the memorial:
'Brothers and sisters: I consider everything as a loss because of the supreme good of knowing Christ Jesus my Lord. For his sake I have accepted the loss of all things and I consider them so much rubbish, that I may gain Christ and be found in him…'
'Brothers and sisters, I for my part do not consider myself to have taken possession. Just one thing: forgetting what lies behind but straining forward to what lies ahead, I continue my pursuit toward the goal, the prize of God's upward calling, in Christ Jesus.'
Imagine downloaded from https://liturgy.co.nz/saint-clare-of-assisi on 07 August, 2021.