A Message from the Administrator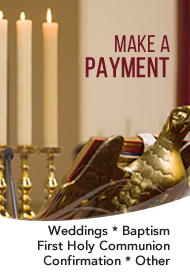 During the Easter Vigil ceremony, the priest enters a darkened church with the newly lit Paschal Candle. He acclaims three times, "Christ our Light" and the Congregation welcomes the Light singing, "Thanks be to God".
In our churches in the Pastoral Region, the priest sings this antiphon in Latin, "Lumen Christi". This is the title given to our Pastoral Region comprising the three parishes of Wollongong, FairyMeadow/Balgownie and Gwynneville.

A Message from the Dean of the Cathedral &

Administrator of the Pastoral Region - 9 MARCH 2017

On Wednesday 8th March at Saint Brigid's Hall, Gwynneville, seventy parishioners gathered to discuss the proposal that the three parishes of our Lumen Christi Pastoral Region merge into the one parish. For seven years, the parishes of Saint Francis Xavier, Wollongong, Saint John Vianney, Fairy Meadow/Mater Dolorosa, Balgownie and Saint Brigid, Gwynneville have operated as a "pastoral region". There was overwhelming support at the Assembly for the process of consultation with parishioners to go to the next step. Church law mandates that parishioners have to be consulted when such a proposal is being considered. There must be a period of consultation and, it needs to be emphasized that this proposal is not a done deal!


News from the Diocese
Over the course of the next two weeks many Australians will be celebrating two solemn memorials: Good Friday and ANZAC Day. Don't disconnect them, both are inextricably linked. In the Gospels, Jesus calls

...

The Office of the Bishop is seeking to fill the position of an Administrative Assistant. The position is full time (35 hours per week), based in Wollongong. Remuneration for the position is based on the Clerks Private

...