A Message from the Administrator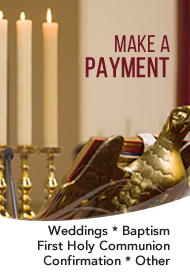 During the Easter Vigil ceremony, the priest enters a darkened church with the newly lit Paschal Candle. He acclaims three times, "Christ our Light" and the Congregation welcomes the Light singing, "Thanks be to God".
In our churches in the Pastoral Region, the priest sings this antiphon in Latin, "Lumen Christi". This is the title given to our Pastoral Region comprising the three parishes of Wollongong, FairyMeadow/Balgownie and Gwynneville.
News from the Diocese
Faith is not in decline around the world. Religious affiliation is growing and faith remains a vital part of the life, culture, thinking and behaviour of individuals in Australia, positively impacting society

...

At 10:30am on Sunday 31 July 2016 at Saint Francis Xavier Cathedral Wollongong (36 Harbour Street) Fr Ron Peters will celebrate Mass specifically for the intention of world peace. There has been so much

...