Bishop of Wollongong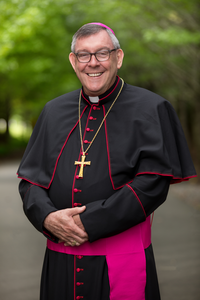 Brian Gregory Mascord was born in Newcastle NSW on 30 January 1959—the eldest son of Ron and Margaret Mascord (nee Callinan) and older brother to John. He grew up in the parish of St Mary Immaculate Charlestown (now part of the MacKillop Parish incorporating Charlestown, Gateshead and Redhead.) Through the gift of his grandparents, Brian has a close relationship with his extended family.
"For all things give thanks."
1 THESSALONIANS 5:18
His primary schooling was with the Sisters of St Joseph Lochinvar at St Joseph's Catholic School Charlestown and his high schooling took place at St Pius X College Adamstown—a school that was staffed by diocesan priests of the Diocese of Maitland-Newcastle. After completing his HSC, he achieved a Diploma of Teaching at the Catholic College of Education in Castle Hill NSW. He taught for six years in primary schools in the Diocese until he began his studies for the priesthood at St Patrick's College in Manly (1986–1990) where he was awarded a Bachelor of Theology. He was ordained a priest for the Diocese of Maitland-Newcastle on 31 October 1992 at Sacred Heart Church (now Cathedral) in Hamilton by Bishop Leo Clarke. From 1993 to 1996 he worked as an assistant priest and administrator at the parishes of Taree, Hamilton and Stockton. He then served as parish priest at the parishes of Cardiff (1997–2002), East Maitland and Morpeth (2002–2005), and Maitland, Lochinvar and Rutherford (2005–2007).
From 2007 to 2018 he was the vocations director for the Diocese of Maitland-Newcastle. During this time has also served as administrator at the parishes of Nelson Bay (2008–2012), Mayfield and Mayfield West (2014–2016), and parish priest of the MacKillop Parish (2017–2018).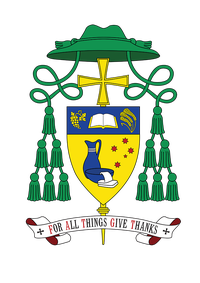 He was a long-standing member of the Council of Priests (2006–2018) and was a member of the diocesan Clergy Life and Ministry Team (2013–2018) and the Australian Council for Clergy Life and Ministry (2015–2017). From 2012 to 2018 he was the vicar general of the Diocese of Maitland-Newcastle.
On 30 November 2017 His Holiness Pope Francis appointed him as the fifth bishop of Wollongong. On 22 February 2018 Bishop Brian was ordained the bishop of Wollongong at the WIN Entertainment Centre in the presence of 4,500 people including 34 bishops and over 110 clergy.
Appointments
Member of the Bishops Commission for Evangelisation, Laity and Ministry (Australian Catholic Bishops Conference)
Bishops' liaison for the Catholic Conference of Religious Educators in State Schools (NSW & ACT)
Contact: Bishop Brian Mascord
38 Harbour Street, Wollongong NSW 2500
Tel: 02 4222 2400
E-Mail: This email address is being protected from spambots. You need JavaScript enabled to view it.